Low Budget and not a film for fans of complex plot devices, 12 wins out with gritty fight scenes that don't mess about...
12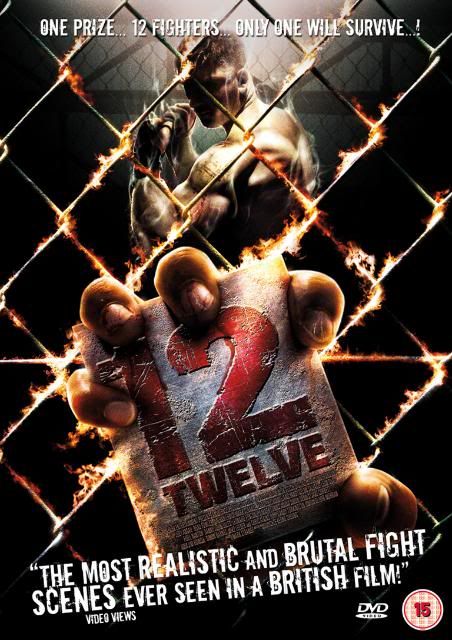 "Blending melodrama and martial arts action, Cheung clearly has the best eye of all the directors of independent British action films." - Combat Magazine
Finally British fight film-making comes of age with the incredible debut thriller 12 directed by newcomer and fast-rising talent Chee Keong Cheung. Born in the UK, Chee's family background resides in China but he has chosen to bring the flair, excitement and style of Asian action film-making to the UK in a breath-takingly assured first film that features an incredible mix of the UK's best martial arts/fight talent.
Written and directed by Chee, 12 was even produced by him after he set up his own company – Intense Productions – an apt name for a future talent to watch. Already 12 has received a prestigious Accolade Award for best stunts as well as being screened at numerous international film festivals.
12 sports an impressive cast familiar to action fans including Danny John-Jules (Red Dwarf, Blade II) and Joey Ansah (The Bourne Ultimatum, Spooks), Mark Strange (Batman Begins, Displaced), 3 times World Kickboxing Champion Nathan Lewis (Fight School, Batman Begins) and Sophie Linfield (Football Factory, The Monk).
12 follows the brutal story of twelve fighters who are brought together to compete in an illegal underground tournament for the prize of £500,000 should they survive... The fighters come from a variety of backgrounds, each hand-picked for a gruelling no-holds barred competition, intended to push each fighter to their limits. Each fighter has their own reasons for competing and each give everything they have to take the prize... but there can be only one winner!
Principal photography on 12 was completed after 35 days in the UK. The film features a total of 13 fights, with the fights arranged by Dave Forman (formerly Leonardo in Teenage Mutant Ninja Turtles), whose credits include Batman Begins, and The Last Samurai. Additional fight arranging was undertaken by Matt Routledge (Mersey Copy, Crazy in Love) and Mark Strange (The Medallion, Twins Effect, Displaced). The film was photographed by Jake Corbett (London Fields are Blue) and BAFTA award winning Simon Dennis (New Town Killers, Woman in Winter) in Lancashire and London with editing undertaken by RTS award winning Mark Towns (The Apprentice).
An unmissable starting gun for a sure-to-be explosive film career ahead, 12 is the British action film-making calling card of a charismatic and driven producer, writer and director Chee Keong Cheung who is already being feted by Hollywood as the next Robert Rodriguez for his ability to thrill with maximum on-screen spills. Chee will be available for interview and feature ideas which can involve fight and stunt set-ups to provide a unique insight into the world of action/ fight filmmaking to support the DVD release of 12.
To further support the release, Chee plus the film's star, Mark Strange (Batman Begins; Displaced), will be making personal appearances at several events around the UK, beginning with the Rumble in the Reebok II Muay Thai Fight Show at the Reebok Stadium in Bolton on Saturday 15th May. Chee and Mark will also be attending the SENI 2010 International Combat Sports Expo at London's ExCel Arena on Saturday 29th and Sunday 30th May and the Liverpool Olympia Muay Thai Fight Show on Sunday 20th June. Additionally, 12 will receive a Red Carpet Charity Screening at the Odeon Printworks Cinema in Manchester as part of an exclusive evening to celebrate the diverse Fight Talent in the North on Thursday, 17th June in Manchester. This exclusive VIP evening will be in support of 'Help For Heroes' (
www.helpforheroes.org.uk
) and 'The Christie' (
www.christies.org
), with high profiled names from the fight world in attendance.

12 (cert. 15) will be released on DVD (£14.99) by Action Extreme on 21st June 2010.

TRAILER